Maintenance Services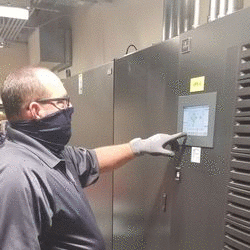 PVI offers high level of technical and mechanical services for the diverse and complex telecommunication field such as wireless services, and internet providers. PVI maintains and monitors multiple sites across the country for our clients and can deploy quickly to all types of critical infrastructure needs such as UPS, DC Plant, Inverter, Generator, ATS, HVAC, and high/low voltage repair. PVI employs the top highly certified professionals in the telecommunication industry, and all are well versed in all site maintenance needs such as Preventive Maintenance, Corrective Maintenance, Break-Fix Maintenance, Fault Rectifications, and fuel deliveries.
PVI has established a sophisticated and comprehensive system for providing all maintenance services to our customers. We offer scheduled maintenance and emergency response 24/7 for all types of facilities such as Hubs, Headend, Datacenters, Storefronts and Call Centers. PVI eliminates confusion by providing clear and constant communication to our customers on all facility and equipment maintenance operations. We are committed to the success of our customers by increasing the productivity and efficiency through timely, precise, and strategic maintenance practices.
The mission of PVI Maintenance is to keep our "client's profitability, and productivity levels high". This can only be accomplished by maintaining efficient and uninterrupted infrastructure for our clients. Because reliability is crucial to our client's financial and strategic reputation. PVI understands this and is always ready and able to provide the services our client's need at any given time. PVI strives to meet and exceed our client's expectations and are always adapting to the ever changing technical landscape.